Hughes O'Brien Chartered Engineers & Assigned Certifiers Frank 086 8638648 ...
Kells Kings Charity Cycle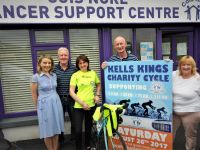 26 August 2017

The Kells Kings Charity Cycle Committee is pleased to announce that this year's annual cycle has been set for 26th August 2017.

The Kells Kings to date have raised over €70,000 and we hope to add to this amount, with your support. With 116km, 80km, 45km and 7.5km routes, there is a route to suit all cycling abilities.
All cycles will leave the Kells Childcare Centre, with the 116km & 80km cycles leaving together at 9.45am, the 45km leaving at 1.30pm and the 7.5km leaving at 3.00pm.
This year a new 80km route has been added to the day This route will leave at the same time as the 116km cycle and follow the same route to Inistioge where there will be a food stop. The 80km route will then return through Thomastown. The new route is now available for viewing on the 'routes' section of the website.
With a change of custom, our famous stew will be replaced with a tasty BBQ on return to the village of Kells and will be available to all cyclists.
Your contribution will go directly towards the provision of much needed cancer support services in Kilkenny and the team at Cois Nore have asked us to express their heartfelt gratitude to you for your continued support over the past number of years.

For anyone wishing to donate their time or resources for the 2017 event, you can contact John on 087-6488986 or through the Kells Kings facebook page.