Shop online at www.treacyscarpetsandfurniture.ie Carpets, Timber, laminate and Vinyl floors, Mattresses, beds and bedroom furniture, dining room, sui...
Handball Leinster Young Player of the Year -Eoin Brennan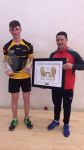 06 February 2018

GAA Handball Leinster Young Player of the Year : Eoin Brennan
Eoin had a phenomenal 2017 winning 5 National titles and reaching the Minor 40x20 Singles Final despite being underage again this year. Eoin impressively beat 19 & Under Nationals Champion Diarmuid Mulkerrins from Galway in the All Ireland Minor semi final. In the final he came up against recent Men's Open Nationals semi finalist Tadgh O Neill from Cork. Despite a good showing from Eoin the Cork player won the title but Eoin is currently underage again this year.
In the first ever Junior Golden Gloves run by the St. Paul's club in Belfast. The prestigious Boys 17 & Under grade winner would be presented with the inaugural Ducksy Walsh memorial trophy as Ducksy was always a great supporter of the golden gloves tournament.
Eoin struck up a partnership with Windgap and fellow Kilkenny player Jack Doyle and went undefeated throughout the season. Together they won the Minor Hardball Doubles All Ireland, 60x30 Nationals 17& Under doubles and then finished off 2017 on a high picking up second level Leinster and All Ireland titles in Boys Senior Doubles for their school St. Kierans College.
These titles were all in top class grades against the best young handball players in the country. Eoin is also nominated for GAA Handball Young Player of the year and across all codes throughout 2017 Eoin was on top form. One of the most successful seasons from an Irish underage player across all codes and competitions ever.
Eoin's achievements for the 2017 year
Nationals
• 40x20 Junior Nationals Boys U17 Singles
• 60x30 Junior Nationals Boys U17 Doubles with Jack Doyle
• One Wall Nationals Boys U17 Singles
All Ireland
• Minor Hardball Doubles with Jack Doyle
• 60x30 2nd Level Colleges Senior Doubles with Jack Doyle
• Minor 40x20 Singles r/up
• One Wall U17 Singles
Leinster
• 40x20 2nd Level Colleges Intermediate Singles
• Minor 40x20 Singles
• One Wall U17 Singles
• 60x30 2nd Level Colleges Senior Doubles with Jack Doyle
• 40x20 Minor Doubles r/up with Conor Condon
• 60x30 Minor Doubles r/up with Conor Condon
• 40x20 Junior Interclub r/up
County
• Minor 40x20 Singles
• Minor 40x20 Doubles with Conor Murphy
• Junior 40x20 Singles
• Junior 40x20 Doubles with Dan Breen
• Junior 60x30 Doubles with Dan Breen
• Junior Golden Gloves Boys 17 & Under 40x20 Singles Champion
A huge congratulations to Eoin on his award and his nomination for the national award. An award Eoin would richly deserve for all his dedication and success across each of the four codes throughout 2017. Kells Handball Club is very proud of Eoin and wish him the best of luck at the awards ceremony for the national award