Hughes O'Brien Chartered Engineers & Assigned Certifiers Frank 086 8638648 ...
Kells Kings Charity Cycle 2018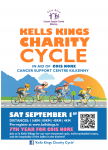 01 September 2018

The Kells Kings Charity Cycle Committee is pleased to announce that this year's annual cycle has been set for 1st September 2018.

With the original 116km cycle route returning, 85km, 45km/40KM and a new 4km route, there is a route to suit all cycling abilities.

All cycles will leave the Kells Childcare Centre, with the 116km & 85km cycle leaving together at 9.45am, the 45k/40KM leaving at 1.30pm and the 4km leaving at 3.00pm.

For anyone wishing to donate their time or resources for the 2018 event, you can contact John on 087-6488986 or through the Kells Kings facebook page.