Hughes O'Brien Chartered Engineers & Assigned Certifiers Frank 086 8638648 ...
Weekly Notes 4th March 2019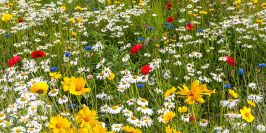 04 March 2019

Wildflowers Talk
Birdwatch Ireland Kilkenny Branch, supported by Kilkenny County Council Heritage Office, will host an Illustrated Nature talk by renowned wildflower expert Zoe Devlin on Tuesday 19th March @ 8pm in Kilkenny Golf Club. Zoe will talk about Ireland's rare flowers (and not so rare, including flowers of Kilkenny), pollinators and some invasive species. Free event. Further information contact Mary Durkin at 056 7762130
Lotto Draw Results: Draw 25th February 2019: No.s : 4 - 24 -29
No Jackpot winner . 5* 30 : Kevin Conway (Cillian Lafford), John O Sullivan (Malachy Hogan) , Anita Butler (Kathleen Kirwan), Nellie Brownrigg (Larry Costello) Brian O Keeffe (Michael O Keeffe). Jackpot next Week : € 3,550. Venue : Delaney's.
Bingo: Every Saturday night St Eoghains Hall Kilmoganny @ 8.30 p.m
Kilmoganny Bridge Results for 27th February 2019:
1st: Jackie Keneally & Rita Townsend. Best Gross: Nellie Lahart & Moira Hickey. 2nd: Kathleen Kelly & Peadar Kelly. 3rd Mary Dunne & Betty Cuddihy.
Bridge every Wednesday night in St. Eoghans Centre, Kilmoganny at 7.20pm. Visitors welcome.
Kells Handball Club Report to 3rd March 2019
In the Adult Leinster 40 x 20 championships in the semi final of the O35B Singles Diarmuid Burke (Kells) defeated Stephen Smullen (Kildare) and in the Leinster Final Diarmuid defeated James Stanners (Wexford) 21-19 21-19. In the O35B Doubles Diarmuid Burke and Anthony Martin (Kells) beat James Stanners and David Stanners (Wexford) 21-13 12-21 21-10.
In the semi final of U21 Singles Eoin Brennan (Kells) got a walkover from Cillian Hogan (Kildare) but was defeated by Kevin Diggins (Kildare) in the Final. In the Leinster Final of the U21D Eoin Brennan/Conor Murphy (Kells) defeated Kevin Diggins/ Cillian Hogan (Kildare) 21-17 21-18.
In the Senior Singles Peter Funchion got a walkover from Ciaran Neary and in the semi final he got a walkover due to injury from Eoin Kennedy (Dublin) and in the Leinster Final he defeated Gavin Buggy (Wexford) in two games 21-8 21-14. Also in Senior Singles Patrick Funchion (Kells) defeated David Hope (Offaly) and unfortunately due to flu had to give a walkover to Gavin Buggy (Wexford).
International Women's Day- The National Design and Craft Gallery, Castle Yard Kilkenny Fri 8 March 1pm - 4pm
Celebrate International Women's Day at the National Design and Craft Gallery. Join us for crafternoon tea treats, chats and tote bag screen printing to mark the occasion. All are welcome to drop in between 1pm - 4pm. For group bookings please email events@ndcg.ie to confirm your time of arrival. FREE event.
For more information and to register - https://www.eventbrite.ie/e/international-womens-day-tickets-55634868389
Dunnamaggin Dash: The annual Dunnamaggin Dash Fun Run and Walk will take place this Sunday March 10th. Registration from 11am at St Leonards National School Dunnamaggin: Adults €10, Children €5 or Family €20. Run/Walk starts at 12noon. Refreshments afterwards in the school. Get your runners ready!
Victory Dinner Dance
Tickets for the Dunnamaggin GAA Victory Dinner Dance on 23rd March in Hotel Kikenny are now on sale. They can be bought from Aine Walsh, Philip Tallon, Colette Fitzpatrick, Ailish Fitzpatrick, Pamela Kennedy and Barbara Rossiter. Ticket cost is €40. Please buy your tickets early as demand is expected to be high and the hotel will need numbers.