Shop online at www.treacyscarpetsandfurniture.ie Carpets, Timber, laminate and Vinyl floors, Mattresses, beds and bedroom furniture, dining room, sui...
Weekly News 11th March 2019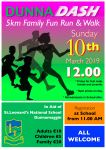 11 March 2019

Dunna Dash: Last Sunday, 10th March, the 6th Dunna Dash 5km Family Fun Run in aid of St.Leonard's National School took place and on a beautiful sunny day. William Phelan, All Ireland Club winning Captain and former past pupil started the race for the 309 runners. First home was local man Denis O'Sullivan for the second year in a row in a time of 18min 49sec. Adele Walsh was the first female to cross the line for the third year in a row in a time of 19min 59 sec. First female juvenile was Louisa Gilmore in 21min 55 sec followed by first juvenile male young Tommy Walsh in 22min 51sec. The first Parent and Primary School child to cross the line together went to Philip & Caoimhe Fennelly in a new course record by 1 sec of 23min 09 sec. All juveniles who completed the course received a medal at the finish and to see the children's happy faces as they crossed the line was worth everything.
A huge thank you to all the wonderful volunteers on the day without whom the race could not have been possible and to all who helped in anyway in making the race a success. Also to our sponsors Abbey Interiors, Fallons Pharmacy, Goodwins Electricial Contractors, Derek McLoughlin & Highway Safety. We also received a number of anonymous sponsorships for which we are very grateful also and to all those who generously donated all the spot prizes.
Victory Dinner Dance; Tickets for the Dunnamaggin GAA Victory Dinner Dance on 23rd March in Hotel Kikenny are now on sale. They can be bought from Aine Walsh, Philip Tallon, Colette Fitzpatrick, Ailish Fitzpatrick, Pamela Kennedy and Barbara Rossiter. Ticket cost is €40. Please buy your tickets early as demand is expected to be high and the hotel will need numbers.
Lotto Draw 4th March 2019
.
Winning Numbers: 2 - 12- 22 No Jackpot winner . 5*€ 30 : Jim Dog ( Pat Comerford ), Peadar Moore ( Joe Fitzpatrick ), Liam Davis ( Anne Hickey ) , Michael O Keeffe ( Michael O Keeffe ) , Ella & Mary ( Jim Dalton.
Next week Jackpot € 3,700 Venue : Townsend' Bar .
Bingo. In St Eoghan's Centre, Kilmogannny Every Saturday night @ 8.30 pm. All welcome
Kilmoganny Bridge Results for 5th March. 1st: Tina Ronan & Philip Brennan. Best Gross: Nellie Lahart & Margaret O'Shea.
2nd: Margaret Duggan & Margaret Grace. 3rd: Emer Wallace & Carmel O'Sullivan. Bridge every Wednesday at 7.20pm sharp in St. Eoghans Centre, Kilmoganny. All welcome
Public Meeting: on possible new Ideas or Projects for Dunnamaggin Parish will be held in St Eoghan's Centre, Kilmoganny on Thursday 14th March @ 7.30pm. Cllr Matt Doran, Trish Finegan Independent Candidate for the local elections in May, and members from Kilkenny LEADER Partnership will be in attendance.
Wildflowers Talk
Birdwatch Ireland Kilkenny Branch, supported by Kilkenny County Council Heritage Office, will host an Illustrated Nature talk by renowned wildflower expert Zoe Devlin onTuesday 19th March @ 8pm in Kilkenny Golf Club. Zoe will talk about Ireland's rare flowers (and not so rare, including flowers of Kilkenny), pollinators and some invasive species. Free event. Further information contact Mary Durkin at 056 7762130.
'Keeping it Delightful': A very pleasant time was had by all at the February 'Keeping it Delightful' Coffee Morning and recycle event in Kilmoganny which raised €103.5 and was shared between St. Joseph's Home and L'Arche. A second 'Keeping it Delightful' Coffee Morning and recycle event takes place on Tuesday 26th March 10.30 am to 1.00pm in St Eoghans Centre, Kilmoganny. Spring is an excellent time for clearing drawers, presses, shelves, nooks and crannies, and sorting out past treasures which are no longer needed. All delightful items and their owners will be welcome at the recycling morning.
Kilmoganny Open Mic. Thursday 28th March 8.00pm to 9.30pm in St Eoghans Centre, Kilmoganny. This will be an extra special evening as it is in remembrance of Detty Byrne, A much admired local lady who passed away almost a year ago. Funds raised will be for L'Arche a charity that Detty supported for 40 years.
Recovery College South East Workshop:
Personal Narrative ( 4 week workshop, one morning per week) We each have our own unique life story that has shaped who we are. This workshop looks at how we share this story in an effective but also in a safe and supported way. Stories are very powerful and can have a huge impact on both the storyteller and the listener. This workshop will help you to work out your own personal life story, learn what you want to share and what you don't want to, and then look at how best to share your own story with others. This workshop will also give you the skills and tools to use your personal narrative positively to support yourself and others on the recovery journey. From 10am to 1pm on the following days: Tuesday 26th March, Tuesday 2nd, 9th and 16th April. To book your place or get more information contact the Recovery College South East in Kilkenny City on 056 7703666