Shop online at www.treacyscarpetsandfurniture.ie Carpets, Timber, laminate and Vinyl floors, Mattresses, beds and bedroom furniture, dining room, sui...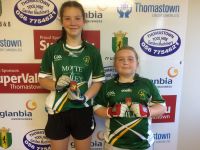 29 July 2019

Kells Handball Club Report to July 28th 2019: In the Adult Leinster 60 x 30 championships in Junior B Singles Donal O'Farrell (Kells) lost out to Martin Mullins (Carlow); also in JBS David Lafford (Kells) lost out in the semi final to Diarmuid Brennan (Mothel). In Junior Singles Brendan Burke (Kells) defeated David Kenny (Wexford).
In the County 60 x 30 Juvenile Doubles championship in Girls U12 Doubles Final Mia O'Connell and Shauna Hayes (Kells) overcame Niamh Ryan and Kate Ryan (Kilfane). Congratulations and very well done. In BU12D Timmy Corr and Daniel Darwich (Kells) were defeated by Clogh. In U16 Doubles Harry Delaney/Joseph Prendergast (Kells) were defeated by Windgap. In U17 Doubles Cillian Lawrence and Ryan Grace (Kells) were defeated in the Final by Windgap. Well done to everyone.