Shop online at www.treacyscarpetsandfurniture.ie Carpets, Timber, laminate and Vinyl floors, Mattresses, beds and bedroom furniture, dining room, sui...
Weekly News 30th Sept 2019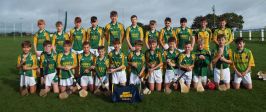 30 September 2019

Local Lotto Results Draw 23rd September 2019: Winning Numbers: 2, 20, 31No Winner Draw 5* € 30: Rachel & Ian ( Jim Dalton ), Ann Connolly ( Marie Kelly), Joseph Clohessy (Dunphy's), Jim,Susan & Ena Hickey ( Anne Hickey), Mary Power ( Ciss Ryan) Jackpot next week € 3,100. Venue : Delaney's
St Eoghans Centre Kilmoganny: Bingo: Every Saturday night @ 8.30 p.m. and Cards: Every Sunday night in @ 8.30 pm. All Welcome.
Dunnamaggin Hurling Club Lotto Syndicate: winners of the latest lotto September Draw were: - Sean & Amy Connery €100 and Tom & Orla McCormack €100.
Kilmoganny Bridge Results: for the 18th September: 1st Rita Townsend & Jackie Kenneally: Best Gross Kathleen O'Shea & Mary Lonergan: 2nd Margaret Duggan & Jerry Fitzgerald: 3rd Josie O'Gorman & Tina Ronan. Bridge is held every Wednesday night at 7.20pm sharp in St Eoghan's Centre, Kilmoganny. Visitors and new members always Welcome
Dunnamaggin U13 in County Hurling Final. Well done to the Dunnamaggin U13 hurlers who contested the Roinn B County final in Danesfort on Saturday last. Dunnamaggin playing with the breeze took the game to the hotly fancied Erins Own team and deservedly lead at halftime. The wind picked up and Castlecomer took full advantage of it to eventually level the game and in the closing stages pull ahead. The Dunnamaggin lads kept fighting all the way to the final whistle and played a super brand of hurling throughout the game and should be very proud of their efforts.
Kells Handball Club Report to September 29th 2019 Kells representatives in the 60 x 30 County Juvenile championships in U10 Doubles were Jake O'Neill/Lorcan Mahony and Darragh McCormack/Matthew Corr and in U11 Doubles were Daniel Darwick/Timmy Corr and Darragh Lyons/Ronan O'Mahony. They all played well but were unlucky in the finals.
The Juvenile 60 x 30 All Ireland Finals are being played in Connacht venues on 6th October. Kells Handball Club would like to wish our Clubs representative in GU17 Doubles Lauren Grace, with her partner Emily Kenny (Talbots Inch) every good wish in the Final when they play Cork.
Public Meeting 'A Vision for Dunnamaggin Parish' took place in The Old School, Dunnamaggin on Tuesday last. Some really good ideas on how Dunnamaggin Parish can develop and thrive in the future were generated. Conor and Christine from Kilkenny LEADER Partnership, who facilitated the evening, took away the ideas to put some structure on them. Dunnamaggin Parish Development Group would like to thank Conor and Christine for their time and thank everyone who came along and participated. From this meeting a 5 year draft plan for the future development of Dunnamaggin Parish will be complied for further discussion.

'Take it or Leave it'. An interesting, exciting and unique community project will take place in Kilmoganny from Saturday 23rd November to Saturday 14th December. Building on the success of the free recycling table at the monthly 'Keeping it Delightful' Community coffee morning, 'Take it or Leave it' will be a free shop. Where everything will be fabulous and totally free to take away. No charge, no donation box, no money allowed at all!!!!
The success of the shop will depend on the amount and quality of the goods donated. So if you are interested in supporting this new venture please start sorting out and putting aside items that you no longer need. Tell your friends and neighbours. Please note only goods of a very high standard will be accepted. Watch out for more details in local and national media

Social Dance Classes take place in The Old School, Dunnamaggin every Friday with Yvonne O'Neill from 7.30pm to 9pm. Get fit and have fun while you learn to dance the Quick Step, Jive, Waltz and many more. For more information contact Yvonne on 087 244 8535 or just come along on a Friday night.
Bookville Kilkenny 2019 The 2019 festival will take place from the 7th to the 14th of October. It is promising to be bigger and better than last year and the events are FREE! This year, 22 participants including authors, illustrators, clowns, artists mindfulness teachers and even an astronaut will showcase events for families and children from 0 -12yrs throughout the county. Brochures are from all County Libraries. Please note, bookings will be taken from 10am on Tuesday 17th September.
All public event bookings are taken on a first come, first served basis. School bookings will be managed by local library.

Understanding and Managing Anxiety ( Four week workshop one half day each week): The Recovery College South East, Greensbridge Kilkenny: Everyone experiences periods of anxiety at some stage in their lives. We can feel tense, uncertain, fearful or nervous. Anxiety is a word used to describe these moments of discomfort. In this workshop we will look at how anxiety affects people in different ways - both emotionally and physically - and when these periods of unease, fear or worry affects your mental health. We will look at the different types of anxiety, it's possible causes and how you can help manage these feelings. You will have the opportunity to discuss your own personal experiences whilst learning from others. This workshop will provide you with a safe space to discuss your concerns, find out about support, and self-help groups available in your community. These FREE workshops start on Tuesday October 1st from 10am to 1pm. Contact The Recovery College on 056 7703666 to book a place.