Shop online at www.treacyscarpetsandfurniture.ie Carpets, Timber, laminate and Vinyl floors, Mattresses, beds and bedroom furniture, dining room, sui...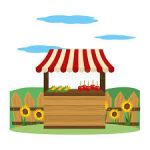 07 October 2019

Local Lotto Results Draw 30th September 2019: Winning Numbers : 2, 21, 32: No Winner: Draw5* € 30 : Marie Nugent ( Jimmy Mccormack), Joan Lacey ( Pete Moran ), Mochel B ( Pete Moran), Pamela Walsh ( Pauline Walsh ), Michael Gorey ( Ellen Gorey) Jackpot next week € 3,250 Venue: Townsend's
St Eoghans Centre Kilmoganny: Bingo: Every Saturday night @ 8.30 p.m. and Cards: Every Sunday night in @ 8.30 pm. All Welcome.
Kilmoganny Bridge Results: for the 25th September: 1st Geraldine O'Sullivan & Brigid Condon: Best Gross Nellie Lahart & Nellie O'Shea: 2nd Eileen Grace & Therese Walsh: 3rd Carmel O'Sullivan & Emer Wallace. Bridge is held every Wednesday night at 7.20pm sharp in St Eoghan's Centre, Kilmoganny. New members are always Welcome
Craic'd - Letting the Light In 2019: Lifelinkk's festival of positive mental health takes place across Kilkenny from October 10th to 13th. On Thursday Oct 10th from 3pm to 6pm in The Orchard Suite of Hotel Kilkenny our annual Afternoon Tea Dance for the young at heart takes place. €3 entry fee it is an afternoon of fun with tea and cake, a raffle and music from musical maestro Dan The Man. Book your tickets from Trish 087 7565376, lifelinkkilkenny@gmail.com. Saturday October 12th the mall at Market Cross Shopping Centre will hop to music. There are a number of workshops taking place in The Natural Health Store and many of the organisations will have information stands. 'A Craic'ng Good Day' a free family fun day which takes place on Sunday October 13th in The Old Auxiliary Hospital, Wolfe Tone Street. More information can be found in our brochure available in Pete's shop, Kilmoganny, Credit Union in Dunnamaggin and Callan and in Jen's Café Kells.
Kells Market is back this Sunday 13th at Mullins Mill Kells 11-00am - 4.00pm. Lots of Home Baking and Crafts. Not too early to look for unique Christmas Presents. Raffle and Teas and coffees served all day.
Take it or Leave it'
Take it or Leave it, Fabulous and Free is a new pre Christmas 'pop up' shop planned for Kilmoganny. All donated goods of excellent quality, excluding electrical items, duvets and pillows, will be welcome. The details of drop off points and home collection are still being sorted out but in the meantime it would be great if households, in the area and beyond started sorting and putting aside things that they no longer need. The list of items that will be welcomed is long. .books, CD' s, DVD's, clothes, bags, belts, shoes,towels, sheets, garden tools,hammers, saws, ornaments, mugs, pictures, mirrors, hats, jewellery, small items of furniture, vases, kitchenware, games, sewing baskets, threads, wool, knitting needles, art and craft items,jigsaws, children's toys...
Please bear in mind when sorting that all items need to be of excellent condition. This will be a shop that will be a delight to enter.
All items will be available from the shop totally free. No charge, no donation, no money needed at all.
The opening days and times will depend on the amount of goods donated and the number of volunteers but it will be between Saturday 21st November and Saturday 14th December.
All updates will be in the Dunnammagin Notes.

Social Dance Classes take place in The Old School, Dunnamaggin every Friday with Yvonne O'Neill from 7.30pm to 9pm. Get fit and have fun while you learn to dance the Quick Step, Jive, Waltz and many more. For more information contact Yvonne on 087 244 8535 or just come along on a Friday night.