Shop online at www.treacyscarpetsandfurniture.ie Carpets, Timber, laminate and Vinyl floors, Mattresses, beds and bedroom furniture, dining room, sui...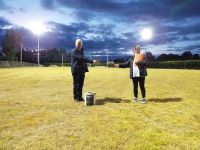 15 June 2020

BINGO online, fun for all the family play every Sunday, buy your card in Bobs shop in Kells and Petes in Kilmoganny for €2. Online cards available froml info@planreview.ie. Prizes for the first 10 full houses. Live stream on
Facebook.com/KellsCommunity/
at 8pm Sunday. Join in for some virtual fun with your neighbours and friends and support the communities of DKK.
Community Champion for Kilkenny: Jo Conroy on the Community Response Team in Kilkenny is available to help if you require information around the steps set out for the next few months on Covid19 restrictions. They will affect everyone different and you may need extra help to get to hospital appointments, vet visits, garden maintenance, shooping, information about fask masks, money management or anything they can do to help. Contact Jo Conroy on 087 2236050 or emal her kilkennycovidvolunteers@gmail.com
GAA Pitches Remain Closed
Pitches Closed!! In line GAA instruction our pitches are CLOSED to ALL recreational activity so No training, walking, casual gathering, going for a puck around until the 29th June. Many thanks for your Please find GAA road map attached here. There are strict guidelines in order to get back to training after 29th June.
https://drive.google.com/file/d/1v8X_H2xSEsQtBFWfYqBYr54BZQn4apsh/view?usp=sharing
Kilmoganny GAA Pitch Our dressing rooms in Kilmoganny are now complete with all services connected & site tidied up. It looks super and the pitch is in great condition ready for a return to action on June 29th. Thanks to builder Pat Long & all who helped get it to this great stage.
Lights on Juvenile Pitch. Last Thursday night saw the new lights on the Juvenile Pitch being turned on for the first time for testing. It was great to see the hard work of the various committees and support of our members materialising in this improvement to our facilities. Thanks to Seamus Byrne Electrical LTD who was the contractor for the lights.
GAA Development Fund Lotto Syndicate - June Winners. First action under the new lights last week was the June draw for the Lotto Syndicate when the lights test was done on Thursday night. A huge thank you to our 188 members for their support this year - we lost some members from last year and thanks to them for their support and we welcome some new members this year. We are very grateful for your commitment and you are the reason we have been able to provide lighting on the juvenile pitch. We will be writing to all members new and old in the coming week with more information. Photo shows Seamus Byrne Lights Contractor drawing the tickets with Anne Davis Fundraising Committee chairperson.
June draw winners €100. Owen Harrison €100. Rita Bergin. June bonus winners of €50 each Christy & Teresa Kearney, Patrick O'Reilly, Anne Doherty, John Hickey We will get prizes to all winners over the coming days.
Kilkennys PPN has free webinars
for community groups in Kilkenny. Taking place on line every Tuesday starting on June 10th at 11am they will cover the following topics Social Media:
GDPR: Good Governance: Social Enterprise: Charities Governance Code Funding (Local Authority and others). Go to
www.kilkennyppn.ie
to register.