Hughes O'Brien Chartered Engineers & Assigned Certifiers Frank 086 8638648 ...
Weekly News 29th June 2020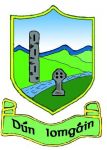 29 June 2020

Weekly Lotto Recommencs: The weekly Lotto Draw for the Dunnamaggin, Kells, Kilmoganny Lotto will re-commence on Monday July 6 th , at 9pm, in St. Leonards's Hall in Dunnamaggin. The Draw will be held each Monday Night in St. Leonard's Hall for the foreseeable future. All promotors will be notified of all the new Rules and Regulations, due to Covid, during the week. The Jackpot stands at €6,700. Tickets will be available at Bob's Shop in Kells and Pete's Shop in Kilmoganny or from any promotor. Best of luck to all patrons and stay safe .
Dunnamaggin GAA club.: All our pitches have now reopened due to the Covid 19 restrictions being lifted. The Club would like to thank all who observed the restrictions which ultimately accelerated the reopening and return to play for all.
Work has commenced on the next phase of our juvenile pitch redevelopment. This involves heavy machinery. Please DO NOT enter the construction site and do not climb on the mounds of clay. Please convey this message to all juveniles in your household.
LAST WEEK OF BINGO online: One more week of Bingo before it finishes for the summer. July 5th at 8pm. So make sure you buy your books from Bobs shop in Kells and Petes in Kilmoganny for 2 a card. Fun for all the family. Prizes for the first 5 full houses. Live stream on Facebook.com/KellsCommunity/ at 8pm Sunday. Join in for some virtual fun with your neighbours and friends and support the communities of Dunnamaggin, Kilmoganny and Kells.