Hughes O'Brien Chartered Engineers & Assigned Certifiers Frank 086 8638648 ...
Weekly News 13th July 2020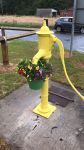 13 July 2020

Local Lotto Draw: 6th July 2020: Winning Numbers : 3, 15, 30: No Winner: Draw for 5 x 30 Winners are Cath Cleere ( Pete Moran ),Ashling O Connor ( Ciss Ryan ), Rita O Neill (Jimmy Mccormack Kilm.), Nellie Forristal ( Anne Hickey ), and Dick O Shea ( Aidan Farrell). Jackpot next week is €6,850, Venue St Leonard's Hall, Dunnamaggin.
Tea at 3pm - A Get Together for All The Neighbours to Enjoy! We would love to hear about how you're enjoying your community get togethers! We received some lovely feedback from Fiona in Kinsale, who has found that Tea-at-3 has helped her to connect with neighbours she had never met before!
Thank you to everyone who joined us for Tea At Three last Saturday at 3pm. We hope you all had a great afternoon! Join us again this Saturday for a fun check-in with our neighbours. Head to this page: streetfeast.ie/tea-at-3/ to register for your very own free tea resources!
Dunnamaggin Development Group: a huge thank you to the Facebook Bingo organisers, and in particular to the brains behind the initiative, Kevin O'Neill, that saw the communities of Dunnamaggin, Kells and Kilmoganny take part and enjoy every Sunday. Over €1900 was raised for parish groups. In Dunnamaggin the funds have been used in part to improve the entrance to the village at Baurscobe. Thanks to the Mary's, Gwen and Joan for their hard work in painting the pump, providing the lovely flower basket and for planting the green area with wild flowers which in due course will bloom and provide a beautiful entrance to Dunnamaggin.