Hughes O'Brien Chartered Engineers & Assigned Certifiers Frank 086 8638648 ...
Weekly News 7th Sept 2020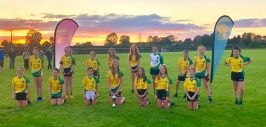 07 September 2020

Local Lotto Draw: September 1st 2020: Winning Numbers : 4,5,19: No Winner. Draw 5 x € 30. Liam White ( Pete Moran), Mary Dwyer( Jimmy McCormack Kilm.),Kieran O Brien ( Jimmy Mccormack Kilm.),M . Moore ( Pete Moran ),Eleanor Dunne ( Malachy Hogan ). Jackpot next week :€ 8,050 Draw St. Leonards Hall, Dunnamaggin. All welcome.
Windgap Camogie: The Windgap Camogie season came to an end for our U14 girls and our Senior panel with 2 great win's. The Marble City Travel U14 'B' Championship Final took place in Piltown on a very windy Tuesday evening 25th August against Mooncoin, Final Score Windgap 3-7 Mooncoin 1-5 Sheila Norris was there to present the trophy to Captain Megan Kenneally

The Marble City Travel Senior Shield Final between Windgap and St. Brigid's took place on Sunday 30th August in Windgap on a beautiful sunny morning, with Windgap winning 4-16 to 2-8

Snap that: Life through the lens of Ireland's 18- to 25-year-olds
The Royal Irish Academy's Social Sciences Committee has launched a youth photography call (18- to 25-year olds) for an online exhibition. They are seeking submissions of photographs and captions that tell the story of things that help or hinder the lives of this generation of young people on the whole island of Ireland, from urban and rural communities. They would very much like to include the voice of Kilkenny youth in this project. The closing date is 30 September.
Please see the flyer above.https://www.ria.ie/news/humanities-and-social-sciences-committees-social-sciences-committee/snap-life-through-lens
NationaI Upcycle challenge
The Regional Waste Management Office in partnership with the EPA is running a National Upcycle challenge, and challenging you to unearth the imagination within and create something new out of something old…to breathe new life into an old or unwanted item or material
Everything you need to know including the online application and a short instruction on what entrants need to do to qualify can be found at https://www.mywaste.ie/upcycle-challenge20/
For World Suicide Prevention Day on September 10th Lifelinkk - Stronger Together for Mental Health will host an online webinar entitled 'The Power Within - dealing with adversity & being resilient' by Dr. Sinead Kane. Dr. Sinead Kane has a Double PhD Doctorate, is a Double Guinness World Record Holder, a Freelance Researcher, a World Class Visually Impaired Athlete, and a Qualified Lawyer. As you can see Sinead doesn't let her disability hold her back and is living life to the full. Within the space of three months Sinead Kane was awarded two PhD doctorates. In October 2017, she received an honorary PhD from the National University of Ireland and in December of the same year she was awarded her academic PhD from Dublin City University. The webinar begins at 1am on Thursday September 10th. Register your interest with Lifelinkk on lifelinkkilkenny@gmail.com and a link will be sent to you by Wednesday evening. Unfortunately numbers are limited to 100.
Kells Market: We are delighted to announce that further to new clarification on covid restrictions we have been told that our Mini Markets can re-open so we are back from Sunday 30th August at Mullins Mill Kells 12noon - 5pm every Sunday. Refreshments will be served all day. Kells Bridge is now open so if you are in Kells drop down and meet out traders
Dunnamaggin GAA - Piltown Draw tickets: It's that time of year again. Piltown tickets (€25) are now available from usual sellers/GAA club officials. They can also be purchased online at www.kilkennygaa.ie where you can select the club you wish to support. Sellers cannot call door to door this year due to the Covid 19 restrictions. This is an important fundraiser for Dunnamaggin GAA club so please support if you can.
Dunnamaggin L:adies Football Club: Our fantastic U12 squad won the St. Canice's Credit Union C league final against Kilkenny City. The squad made up of 15 players are very young with 10 of the girls still only U11 making the win even more of an achievement. The match was fast paced with equal scores being exchanged both ends throughout the match. The skills and passion on show were a credit to the girls' mentors. With only 5 minutes to go City had the edge leading by two points and it was all to play for. Our young Dunnamaggin side stepped it up and held most of the possession for the last few critical minutes. Their unbelievable spirit and never give up attitude paid off with a goal and a point in the dying minutes of the match to see our girls clinch victory. Congratulations to all involved with this super squad of young players
Kells Handball Club Hello to everyone and hope you are all keeping well. We are progressing with our renovations of the alley. Due to Covid19 we missed out on our planned fundraising events. We are now going to run a 'Buy a Block' fundraising event where names will be permanently printed on a board inside the building. €5 Juveniles/OAPs/Students, €10 Adults and €15 for a family block. To buy a block money can be given to any Kells Handball Club Committee Member or payment can be sent to kellshandball21@gmail.com via Paypal. Looking forward to seeing you all back in the handball alley in the near future. Thank You.
Culture Night Star Weaving Workshop Join in a socially-distanced workshop at the Medieval Mile Museum on September 18th from 6pm - 9pm , where you will learn how to weave a simple 8-pointed star from recycled materials. Your star will join tens of thousands of others in the Amber Women's Refuge One Million Stars to End Violence project. Amber Women's Refuge, led by Siobhan McQuillan (Art Therapist) and Relief Worker, initiated a Star Weaving project in Kilkenny in December 2019 with the aim to raise awareness and provide information about Domestic Violence. Kilkenny County Council has recently partnered with Amber Women's refuge to support and promote this project and to get people weaving stars across Kilkenny and indeed the whole of Ireland. To date there is a total of 3000 stars weaved by Kilkenny Volunteers, these stars form a fantastic installation for Culture Night at the Medieval Mile Museum. No booking required for this workshop but access will be staggered.
Congratulations to local Kells native Alan Persse, who rode a winner in Navan on Saturday September 5th on 'Diamond Eyes' owned by trainer Sarah Dawson. Well done Alan.