Hughes O'Brien Chartered Engineers & Assigned Certifiers Frank 086 8638648 ...
Weekly News 21st Sept 2020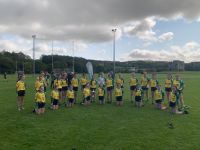 21 September 2020

Dunnamaggin Ladies Football: DUNNAMAGGIN ARE COUNTY CHAMPS in a number of age groups: What a week for Ladies Football in Dunnamaggin. Huge congratulations to our U14 squad who overcame Kilkenny City on September 13th in the St. Canice's Credit Union Roinn A Championship Final in Thomastown. The girls dominated much of the play in the first half but a good third quarter by City and some unlucky wides by Dunnamaggin kept the City side within reach. Our determined, passionate squad however went on to hold onto much of the possession in the final quarter and ran out deserved and worthy victors with a 2 point margin. Well done to the full panel of 25 girls and their management crew on a fantastic win. The whole parish is so proud of you
Our U16s are COUNTY CHAMPS after beating John Lockes last Friday evening, September 18th in the St. Canice's Credit Union U16 B championship final. It was a fantastic game of football and our girls displayed grit, determination and skills that are a testament to the work put in by their mentors this season. Although it was felt in the first half that our girls had good control of the game, the third quarter saw Callan on fire and they took some terrific scores to bring the lead down to just one point. Despite a couple of sin bins Dunnamaggin managed to compose themselves again and dominated much of the play in the last quarter and ran out deserved champions. Congratulations to all the players and mentors on a super season and thank you to St Canices Credit Union for gifting the players with a lovely water bottle each.

Local Lotto Draw 14th September 2020 Winning Numbers :9 , 14, 17. No winner this week. Winners of Draw 5 x € 30. Hannah O Keeffe ( Michael O Keeffe ),Orla Vaughan ( Jimmy McCormack ),Kathryn Costello ( Larry Costello),Theresa Butler ( Pat Butler ),Pat O Neill ( Anne Hickey ) Jackpot next week : € 1,150. Venue . Leonard's Hall, Dunnamaggin. All welcome.
Meitheal CE Scheme Callan have vacancies in the following areas, L'Arche, Mount Carmel, Christian Brothers Westcourt, Droicead Family Resource Centre and Clerical Work. If you have been in receipt of a social welfare payment for 52 weeks or more you may be eligible to come on a community employment Scheme. It is a good way to gain experience in a work environment and also receive training in many different areas. Anyone that may be interested in these positions contact Josie Ronan on 056 7725502 or 086 2740366 Monday to Friday 9.30 -5pm
"Relay for Life Kilkenny We are delighted to announce the The Village Childcare and Community Services Group have most generously offered to run their Drive in Bingo with Kilkenny Bingo at the Castleinch Venue for Relay for Life Kilkenny in aid of the Irish Cancer Society on Saturday September 26th - first numbers at 7pm. Fundraising has been dramatically reduced due to Covid 19 and fundraising for the Irish Cancer Society is down approximately €3 million. Of the money raised, funding comes back to Kilkenny Cancer patients through the Care to Drive, Night Nursing Service, Patient Grants and travel to treatment allowance. This year we were due to have 19 teams participate at our annual Relay for Life Event that was to take place in July at the Rugby Club, this would have been our 8th year, with the loss of this event it has had a hugely negative effect on our fundraising, We would be thrilled to see you at The Monster Bingo and would ask that you spread the word to family and friends and come along to support such a worthy cause which has touched so many of us."
Kells Handball:
Our 'Buy a Block' fundraising event is on going. Buy a block and your name will be permanently printed on a board inside the building. €5 Juveniles/OAPs/Students, €10 Adults and €15 for a family block. To buy a block money can be given to any Kells Handball Club Committee Member or payment can be sent to kellshandball21@gmail.com via Paypal. Looking forward to seeing you all back in the handball alley in the near future. Thank You.
Dunnamaggin GAA - Piltown Draw tickets: It's that time of year again. Piltown tickets (€25) are now available from usual sellers/GAA club officials. They can also be purchased online at www.kilkennygaa.ie where you can select the club you wish to support. Sellers cannot call door to door this year due to the Covid 19 restrictions. This is an important fundraiser for Dunnamaggin GAA club so please support if you can.
Recovery College South East – Online Recovery Education Programme
You are invited to join us in our new Online Recovery Education Programme. It is free and will help us all feel connected and supported during these times of uncertainty. For detailed information on the workshops, please go to the Workshop Section of our Website – www.recoverycollegesoutheast.com. For an enrolment form please phone us on 086 1746330