Hughes O'Brien Chartered Engineers & Assigned Certifiers Frank 086 8638648 ...
Weekly News 15th March 2021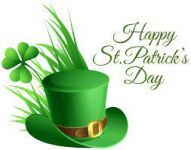 15 March 2021

Mass from St.Leonards for St Patricks Day and for Lent Sunday Mass will be streamed live from St.Leonards Church Dunnamaggin every Sunday @11am for Lent through the Dunnamaggin GAA Facebook page. Please spread the word.
Bikeathon.The Dunnamaggin Adult Hurlers are teaming up with Kilmoganny Tidy Towns for their latest fundraiser for Gym equipment.On 16th March they will be undertaking a Bike-A-Thon for 24hours.We need your help by Sponsoring a Cyclist,Volunteering to Cycle a Time slot or donate online. More details closer to the time or contact Lorraine Moore 087-6414147 or Jack Brett 087 9422859. There is also a go fund me page to make things easy to donate. Thank you.
Spend the 17th March with St. Patrick's Festival Kilkenny
Kilkenny County Council have planned and funded a fantastic virtual programme for St. Patricks Festival, Kilkenny with a Picture Parade, Destination greening, The Big Green Kilkenny Knit and Wolfwalkers with Kila in concert. To find out more about these events and much more go to https://stpatricksfestivalkilkenny.com/

Kilkenny poetry phone
Kilkenny County Council Arts Office's a poetry phone is back with a wonderful new collection of poems selected by Deirdre Southey from the Arts Office which reflect the beauty of the ordinary and the real understanding and connection between people and place, how it is experienced in the small things. Everyone is welcome to the poetry phone. Just dial 1800 272 994 to listen to one of ten wondrous poems written by Kilkenny poets; Nora Brennan, Kevin Dowling, Mary Malin, Michael Massey, Nuala Roche, Mike Watts, Noel Howley, Carmel Cummins, Angela Kehoe and Kathleen Phelan. The poems are beautifully recited by Kilkenny actors Susie Lamb, Ger Cody and Nuala Roche. To listen to a poem please pick a number between 0 and 9.
World Water Day March 22nd 2021 - Highlighting the value of water to reimagine our rivers
Water is a vital natural resource that can mean different things to different people. World Water Day on March 22nd is an opportunity to decide what water means to you personally. This is important because everyone of us has a part to play in the protection and management of clean and healthy water in our wetlands, lakes, rivers, estuaries, and coasts. The aim of World Water Day 2021 is to highlight the value of water. Currently, LAWPRO is working to promote better management of our natural water assets and resources. Marking World Water Day this year an online conference called "Reimagining Irish Rivers" will take place via Zoom. This two-day event will feature leading experts, practitioners, and community groups explaining their connection with rivers. There will also be opportunities for deeper participation and discussion through Q&A sessions. Register for free at https://bit.ly/2NZXfkS or visit www.lawaters.ie for information on the programme.
Sustainable and Pollinator Friendly FREE gardening course
County Council Kilkenny and the Heritage Office are offering a FREE sustainable Gardening course online for tidy towns groups. The course is run by horticulturist Aoife Munn and has received great response from past participants and the media. It's a 5 week course on Saturday Mornings from 10am to 11am for 5 weeks.Topics covered include: reducing your waste, growing your own veg. Planting for pollinators, alternative to chemicals and much, much more.
To secure your free place please click the link below and register. https://www.eventbrite.ie/e/5-week-sustainable-gardening-course-sponsored-by-kilkenny-county-council-registration-141125681713
Droichead Family Resource Centre are delighted to be part of the Amber Refuge One Million Stars Ireland project Weaving Communities of Courage Against Violence. Over the last month women from Callan, Mullinahone, Windgap and Kilmanagh have been weaving stars and attending zoom workshops to weave more than 1000 stars. The stars were sewn together and exhibited on the entrance gates to Droichead FRC on West Street in Callan and the garden gates at Droichead Childcare to celebrate International Women's Day. Each star represents Hope, Light and Solidarity to anyone that has experienced violence. L'Arche, Callan and St Brigid's College Callan joined with the star weaving in February and have exhibitions of their stars displayed at their entrances too. Droichead FRC are continuing to weave stars for future exhibitions and welcome new star weavers. If you'd like to get involved please get in touch with Jess 0858564950, we supply the ribbon & all you need is a pair of scissors. Weekly zoom meet ups are available to weavers until we can meet again in person. More information on the One Million Stars Ireland project can be found at www.onemillionstarsirleand.ieIf you or someone you know is experiencing domestic violence or abuse, there is help: Amber Refuge - 1850 42 42 44 or email info@amberwomensrefuge.ie A €2 donation can be made to Amber Refuge by texting AMBER to 50300