Hughes O'Brien Chartered Engineers & Assigned Certifiers Frank 086 8638648 ...
Weekly News 10th May 2021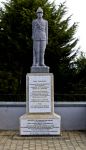 10 May 2021

Pat Walsh Memorial Committee: The 16th May this year will see the first showing of the Documentary about Pat Walsh and the sacrifice he made during the War of independence when he lost his life on May 18th 1921 resulting from injuries sustained in battle. Michael Benson Productions have been working on this since September of last year and it has been a project of passion for everyone involved. We look forward to sharing the finished project with everyone and seeing it take its place in preserving the stories of the people who helped shape Irish history.
Dunnamaggin Hurling GAA membership - Thank you to all the Dunnamaggin Hurling GAA club members who have embraced the new online GAA system of paying membership it has worked very well. If you still have to pay your membership please go to www.foireann.ie create an account, select your membership type and click pay which will direct you to Stripe where you can pay your membership. Thank you.
Dunnamaggin GAA Lotto syndicate May winners
Congrats to all our May Lotto Syndicate winners.Jamie & Monica Moore, Noel McDonald €100 each.Eamon Blake,Willie Kearney Jnr, Michael Carroll, John & Gavin O'Keeffe, Noel & Aileen Lahart, Raymie & Breda Cahill €50 each. Thanks again to all Lotto syndicate members and club members, your support is funding club development & very much appreciated.
Dunnamaggin Development Group: Workshops via Zoom - We have successfully obtained gran aid from Kilkenny County Council to provide some online workshops for the community. These will take place on Tuesday evenings over May and June. The workshops start with Basic First Aid with Niamh Doyle on Tuesday May 11th and 18th from 7.30pm to 9pm. Five Ways to Wellbeing with Gina DElaney of Mental Health Ireland on May 25th, 7.30pm to 9pm and an Introduction to Yoga with Audrey Walsh on June 1st and 8th from 7.30pm to 8.30pm. To register for any of the workshops please email us on dunnaparish@gmail.com or private message through our facebook page Dunnamaggin Community News.
'A Vision for Dunnamaggin' The final few days to get involved in the community-wide survey. The post boxes in the village will be there until May 15th for the completed forms, one at the GAA pitch and the other at the Old School. We are asking everyone who lives, works, learns or wants to have their say about Dunnamaggin to take part. The survey will help inform Dunnamaggin's five-year development plan. The development plan will look at how to sustainably enhance the village through improved green space, heritage and community amenities.'A Vision for Dunnamaggin' survey and public engagement workshops is delivered by Workhouse Union for us with funding from Kilkenny LEADER Partnership. The survey is available online through the Dunnamaggin Community facebook page or you can request a survey by emailing us at dunnaparish@gmail.com.
Kilkenny Knitted Together tutorials Have you always wanted to learn how to crochet but never got around to it? As part of Kilkenny County Council's Knitted Together project textile artist Jacqui Kelliher is hosting two online tutorials on Monday 10th May and Monday 17th May @11am. The first tutorial will cover the basic stitches and then the 2nd tutorial will show you how to make a granny square using these foundation stitches. Then the sky's the limit!!!. There are 15 places on the tutorials. BOOK EARLY by e mailing bernadette.roberts@kilkennycoco.ie
The Parent Council of Coláiste Éamann Rís are having a clothes collection until May 21st. Plenty of time to clear out wardrobes etc. All bags can be left at the front of the school. All covid precautions will be taken. This is a great way to get rid of unwanted clothes while at the same time helping the school raise much needed funds. Fundraising has come to a standstill due to covid. Please donate only clean clothes and please no carpets, mats (including toilet and bath mats), duvets, blankets, pillows, material, school or work uniforms.
Family Carers Ireland in partnership with An Garda Síochána, the National Ambulance Service Community First Responder Schemes, The Irish Red Cross and The Order of Malta has developed an Emergency Card Scheme for family carers. When a family carer has an unplanned hospital admission there is a risk that the person who needs their care and support could be left at home alone and uncared for. The Emergency Card Scheme is intended to give peace of mind to family carers as well as ensuring that the person they care for remains safe in such emergencies. For more details on the scheme, visit our website on www.familycarers.ie or call our Freephone Careline 1800 24 07 24.
Recovery College South East, Kilkenny – Upcoming Zoom workshops for May/June 2021 Recovery College South East is offering free online interactive workshops, Upcoming online workshops for May and June are:
Conversations about Suicidal Thoughts and Healing the Mind (6 week workshop)
Wednesday 5, 12, 19, 26 May and 16 and 23 June, from 11am – 1pm
Music for Mood (5 week workshop)
Friday 7, 14, 21, 28 May and 4th June, from 11am – 1pm
Further information from Recovery College South East, tel. (086) 1746330, e-mail recoverycollegesoutheast@gmail.com See also www.recoverycollegesoutheast.com
A new Suicide Bereavement Liaison Officer (SBLO) has been appointed for South East Community Healthcare (Waterford, Wexford, Carlow, Kilkenny and South Tipperary). The SBLO can provide support to individuals and families in the immediate aftermath of a death by suspected suicide. This is a support service and the SBLO will refer service users to counselling or therapeutic interventions where required. People can self-refer or referrals are accepted by all agencies with consent from the individual or family.
The role is managed by Pieta and is fully funded by HSE Mental Health nationally. The new SBLO is Kelly Higgins who may be contacted by phone or by e-mail: 085-8073040 or Kelly.higgins@pieta.ie
Kilkenny County Council Cruinniú na nÓg Programme An exciting range of projects for children and young people will take place in Kilkenny on June 12th for Cruinniú na nÓg, the national day of free creativity for children and young people. The projects were funded by the Kilkenny Creative Ireland Programme via a public grant scheme co-ordinated by the Culture Section of Kilkenny County Council. To find out what's happening in Kilkenny go to https://kilkennyheritage.ie/2021/05/kilkenny-county-council-cruinniu-na-nog-programme/ https://cruinniu.creativeireland.gov.ie/

Kilkenny County Council Decade of Centenaries Programme 2021
The Kilkenny County Council Community Strand of the Decade of Centenaries Programme 2021 is designed to raise awareness and encourage engagement with the significant events and people from County Kilkenny associated with 1921. The Council invited applications from the community for a public grant scheme and to date has awarded funding to eight projects in the first round of grant offers. Details of the grant offers available at https://kilkennyheritage.ie/2021/05/kilkenny-county-council-decade-of-centenaries-programme-2021/