Hughes O'Brien Chartered Engineers & Assigned Certifiers Frank 086 8638648 ...
Weekly News 28th June 2021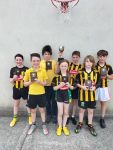 28 June 2021

St St. Leonard's National School: the school's traditional hurling league was held again this year with Edward Moylan and Grace Denny captains of the two teams that made it to the final. After a thrilling match, Edward's team were the winners and Edward received the cup! The14 pupils of sixth class graduated this week and head off to secondary school in September after a lovely graduation ceremony last Wednesday. We wish them the best of luck in their future.
Local Lotto Draw 21st June 2021 Winning Numbers : 6, 12, 16 - No Winner. - Draw for 5 x €30 prizes: Adam Comerford ( Pat Comerford), Hannah, Mia & Emily ( Cis Ryan ),Adam Comerford ( Pat Comerford ),Zoe Kenneally ( Jackie Kenneally ),Pauline Flynn ( Pauline Flynn ).Jackpot next week ( 28th June 2021 ) € 2,050 Draw in St Leonard 's Hall @ 9.00 pm. All Welcome
Dunnamaggin Development Group: a second very successful Garden Market was held in Madges Garden last Sunday. Thank you to everyone who supported the day. Again the sun shone for us, neighbours and friends gathered to chat and catch up with tea/coffee from the Café and avail of the lovely produce from the stalls and burgers from Eamo's BBQ. Ciaran and Laura from Islander Architects along with Rosie of Workhouse Union were there to engage with the community and explain the process for a five year plan. They are hosting two workshops to get the ideas and views of the community of Dunnamaggin to further the five year plan 'A Vision for Dunnamaggin'. The workshops will take place in Madges Garden tonight June 30th at 7pm and Saturday July 3rd at 11am. Please come along and have your input into how you would like to see Dunnamaggin develop. The workshops are open to everyone, of all ages. See you there. Follow us on facebook to keep up to date on all that is happening Dunnamaggin Community News.
Kells Scouts 6th Kilkenny Kells Scouts is accepting new members of all ages from 6 years old, starting in September 2021, safely in line with any ongoing health restrictions.To get your child started on the scouting adventure and register your interest please email, text or call the Group Leader Francis as soon as possible: Francis.denny@gmail.com 086 2841468. To find out more about Scouts, see https://www.scouts.ie/
Pride in Kilkenny 2021
June is Pride month and to mark this special occasion Kilkenny Leader Partnership is teaming up with the Butler Gallery to programme a series of events and activities which will be just the start of a prolonged process of mutual cultural and artistic engagement with LGBTQ communities across Kilkenny and further afield. Visit butlergallery.ie for events.

Newly established Kilkenny Volunteer Centre : www.volunteerkilkenny.ie are Recruiting for Kilkenny Welcome Volunteers / Ambassadors for Summer Months. If you love Kilkenny and passionate about helping visitors around the city please get in touch. Call 08087 116 5658 or email info@volunteerkilkenny.ie
Congratulations to Kilkenny Community Traveller Movement who were successful in their application for the new Community Development Programme. On 24 June Minister O'Brien announced the 7 successful applicants to share in the €1m pilot Community Development Programme Fund, of which Kilkenny Community Traveller Movement was one. The aim of this €1m pilot programme is to trial community led interventions that address poverty, social exclusion and inequality, and promote human rights. The fund will advance a Programme for Government commitment. Applications to take part in the programme were received from over 120 community development organisations. The projects chosen are based in Donegal, Clare, Dublin, Kilkenny, Longford, Wexford and Meath/Louth and will provide supports to Travellers; women living in poverty, migrants and people with disabilities.