U14 B Football Champions
17 January 2015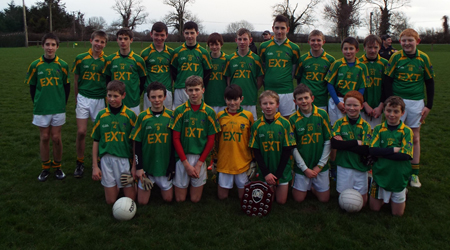 The Kilmoganny U14 footballers were crowned county Champions
on in a bitterly cold Dunnamaggin on Saturday. Eddie Dunne signaled Kilmoganny's
intent from the throw in and split the posts. This was followed up with a point
from Denis Walsh on the 5th min. The game ebbed and flowed for both
sides but it was not till the 17th min when Andy Hickey got the
games next score, a point. This seemed to spark the Ballyhale lads on and from
their next attack they struck the back of the net. They immediately followed
this up with a point from play to put them into the lead with 10 on the clock
till Half time. Some great tackling and blocking from the tidy full back line of
Alex Moore, Adam Fitzpatrick and Dylan Crehan soon stemmed any further attacks
and gave a platform for the all Walsh half back line of Darragh, Ian and Harry
to continue to fed the Kilmoganny attack. Eddie Dunne and Andy Hickey made the
most of the possession by pointing from play just before half time. Half – time
Kilmoganny 0-05 Ballyhale Shamrocks 1-01
Ballyhale started the second half best and from their first
attack found the net again. They continued to exert pressure on the Kilmoganny
goal and but for some heroics by our backs and Goalie Dylan Carroll could have
scored. Kilmoganny had however made some key positional switches at half time
and they were starting to play very impressive football. Their first real
attach of the second half saw Denis just hitting the side netting. Robbie
McCauley then pointed from play after an initial free in by Denis to put the
minimum between the teams. Then after great work by Ian Walsh, Denis Walsh coolly
found the back of the net to nudge his team in front. From there they did not
look back. Ian combined with Darragh O'Keeffe
( now playing in the backs) really started to grab the game by the scruff of
the neck and refused to allow the Ballyhale forwards any space. Adam Farrell then
pointed again from play. Andy Hickey then split the posts again midway through
the half after a great solo run by Adam Farrell down the right hand side fed
the ball into him. Ballyhale did sneak a point back but despite their efforts
Kilmoganny had the momentum. Eddie Dunne then coolly found the back of the net
after some great play between Conor Brett and Andy Hickey. Robbie McCauley then
added to his tally after yet another good run up the right side from Adam
Farrell put the ball in and Robbie turned and hit the back of the net. Adam
Farrell and Andy Hickey made way for Daniel O'Neill and Ger Coffey with 5 mins
remaining. Ballyhale did have the last say of the game with a very well taken
goal but it was enough to stop the Kilmoganny lads winning the trophy.
Kilmoganny 3-08 Ballyhale Shamrocks 3-02.

Panel:-
Dylan Carroll, Adam Fitzpatrick, Dylan Crehan, Alex Moore, Darragh Walsh, Ian
Walsh, Harry Walsh, Conor Brett, Darragh O'Keeffe, Eddie Dunne, Conor Hoban, Denis Walsh, Robbie McCauley,
Adam Farrell, Andy Hickey, Daniel O'Neill, Cathal Ryan, Kieran Buckley, Ger
Coffey, Shaun O'Keeffe.